We are happy to release a big update for RAXO Grid which has two views in one layout. An enormous amount of changes have been made, which means this layout also has been completely redone. The most important thing you should know - this version is compatible with all RAXO modules, including modules for Joomla 4.
New features:
Now available for two more RAXO modules:
RAXO Related Articles & RAXO Related K2 Items;
Updated and expanded color schemes:
2 modes (dark & light) * 10 color schemes = 20 options;
Added support for Block Name, Block Intro & Block Button fields;
Flexible management of the number of columns on different devices;
Compatible with modules for Joomla 4.
Improvements:
Layout renamed from allmode-grid to raxo-grid;
Semantic <article> HTML5 tag is used to specify items;
Much more responsive & flexible behavior thanks to the use of flexbox;
Moved to alternative PHP syntax, as it is easier to read when mixing HTML and PHP;
New vector icon for better results on high-density screens;
Increased font size and line-height for text and headings;
JavaScript Cookie plugin updated to the latest version 3.0.1;
Increased cookie expiration to 30 days;
Fix compatibility problems with latest jQuery version.
Two Views in One Layout
Hope you remember, RAXO Grid layout has two views - a gallery GRID view and a detailed LIST view. Your site visitors can easily switch between these views, moreover, the layout will remember which view a particular visitor prefers.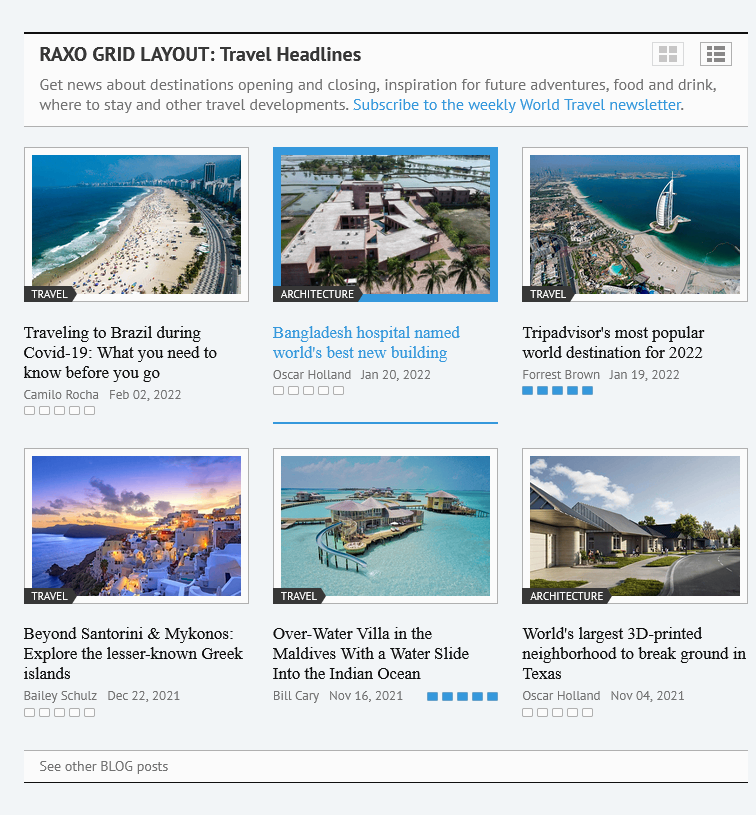 Visit RAXO Grid layout page