It's not an easy task to surpass the expectations of your clients all the time. We are sure that our team has managed to do that again :)
We are extremely pleased to announce our new "baby" - RAXO module template All-mode Grid. The appealing design and professional typography will definitely encourage your visitors to linger and take their time to read the content on your website.
And there is one remarkable feature that you and your site users will certainly love. All-mode Grid allows users change layouts. This ability gives your site visitors a more immersive experience and allows them to consume information easy and fast, either with a quick gallery view or a detailed summary view.
Now let's reveal more details about this awesome template.
Two ready-to-use layouts in one template
The template has two really cool views that you can switch between at any time - from compact (grid) to extended (list) view.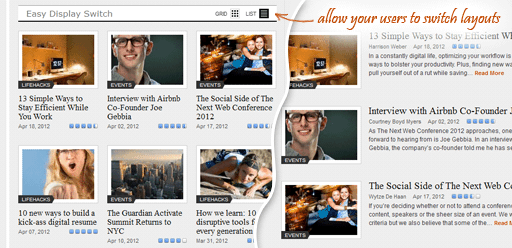 Grid view represents information in some kind of a gallery format which is compact and easy to navigate. List view reveals more details to your site visitors without necessity to leave the current page.
Responsive design
Responsive design is the trend #1 in webdevelopment this year. It offers a specific and optimised screen size layout that is based on whatever device (mobile, tablets) the visitor uses. Our template All-mode Grid perfectly fits this kind of sites with fluid-width design.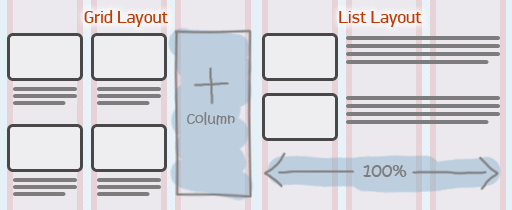 Depending on the size of the browser window, the number of columns adjusts automatically. List view has 100% width which means it fills the entire module position regardless of its size.
Equal Item Height
It's common that your news announcements have different number of words and therefore different item height which looks quite messy. Our template All-mode Grid always has superb view with any set of elements (articles/news). To make our template design always look clean and cool we use this trick.

The module automatically adjusts every item size to match the highest item in the row. So your site is always preserved neat, clean and easy-to-read.
Smart behavior
The template uses cookies to remember which view (grid or list) a particular visitor prefers. It is enough to use the switcher once, and when you come to this page next time the module shows the view that you selected last time.
This is an incredible feature for your site usability. It allows your site visitors customize pages to their taste or needs. E.g. they may want to see the detailed view for the sections they are most interested in, and have a compact grid view for those sections that are less important.
10 Color Themes
This template comes with 5 color themes (red, green, blue, orange & violet) and two color modes (white and black). White color mode is used by default, but you can switch to black color mode for sites with dark design.
By combining color themes and color modes you can get up to 10 various sets (red color + black mode or blue color + white mode).

To see All-mode Grid screenshots and pricing go to the official template page.